We just recently created a step-by-step guide on how to create a website with wordpress.  If you want to learn how to build a website with wordpress, you might want to visit my new website How to blog tutorial.  This was created to help beginners to jump start their web development tasks.
I still remember when I first started to learn wordpress, It was very challenging and there are still a few tools that I can use to achieve some advance designs and functionalities.  I still remember learning HTML, CSS, Php, and Javascript and I went from one book to another just to complete and achieve the design my clients want.
Unlike today, because of the improvement and advancement of web technologies, creating websites is a lot easier.  However, many of web developers today still depends on some old technologies.
No matter how well you are in programming, no matter how fast you can type and code and create websites manually using HTML, CSS or php, you cannot be as productive as the one using advance Web Development Technology.  The things that worked yesterday may not be as effective today.
Let us look at this website I created with DIVI Builder: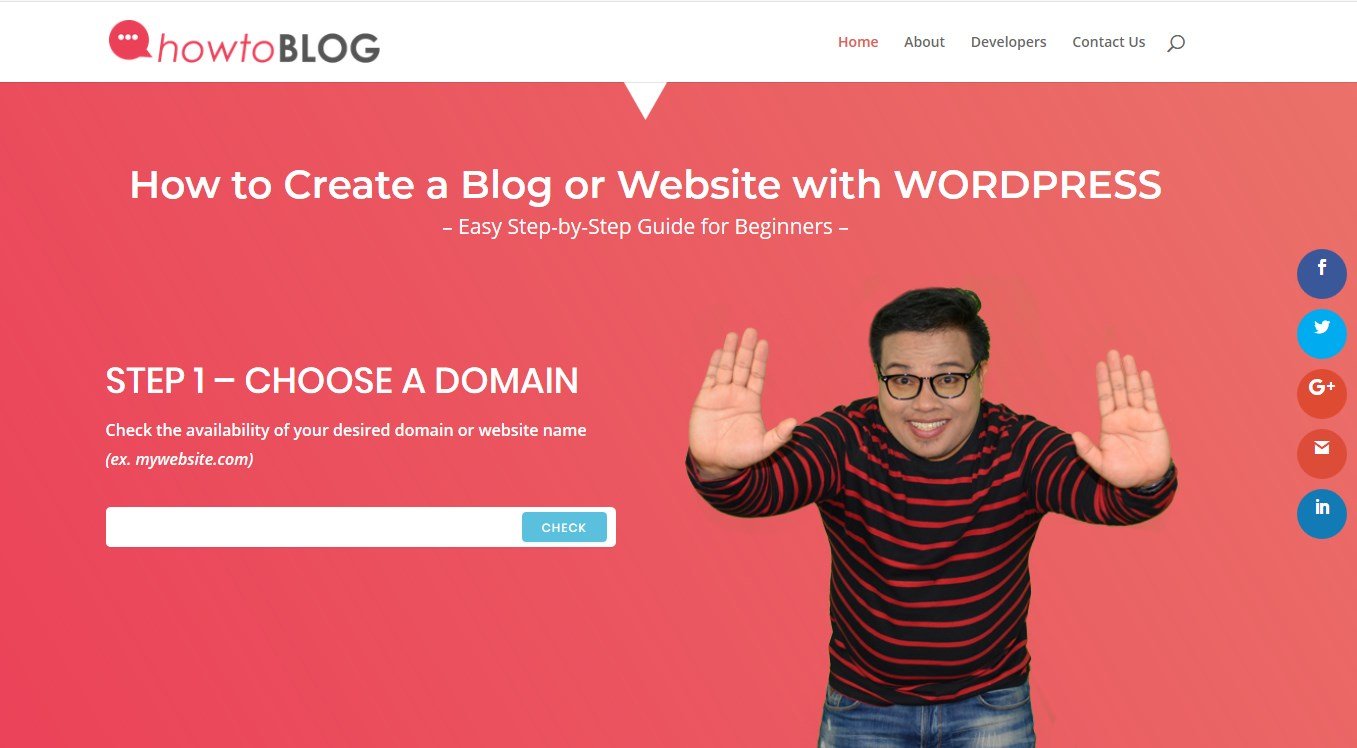 This is new website landing page I created using a Visual Builder, the DIVI Theme.  Click Here to View. 
If I am to create this manually via HTML, CSS, php and Javascript, this will take more hours than using the visual front-end builder.   What I usually build manually that takes about 2 weeks to complete, with the use of right tools, I can finish now in a day.  Yes!  This is totally insane and this also means good news for those who want to get engage in web development.
That means, even if you haven't learned a single line of code, even if you are a total beginner in web development, you can create stunning websites if equipped with the right tools and little guidance.
This is why I created a step-by-step guide for you so that you can venture to this kind of job too!  With the right tools and skills, you can easily start your online business by creating your online presence, creating a website for clients and by doing online marketing.
Funny to say, but even my 9 year-old daughter can build a professional website!
So, will Web Development Work for You?
My answer, absolutely Yes!  As long as you have the right tools and some guidance from experienced web developers, you can be a professional web developer easily!  It only takes a little bit of passion and interest to make you a successful Web Developer and Internet Marketer.  Learning is easy and the answer to your need is here.  As a web developer, I know how important this guide for those who want to go into web development.
Why Am I Sharing This Step-by-Step Guide in Web Development?
I am an Electronics Engineer by profession.  I finished a 5-year course in Electronics and Communications Engineering and passed the board exam in year 2001.  However, the education I had in the past haven't really made a lot of impact in my life and it has given me a life which I really do not want.  What I want is a life of purpose, living a life with my family and a freedom to choose my own time and schedule to do the things I love.   This was only made possible by going into Internet Marketing and It started with creating an online presence, creating websites and HELPING OTHERS.  I have helped many marketers in the past and I made a good living from this profession.  I simply love it!    I love the feeling of being able to help and share to others.
I am glad to have been able to make an impact to many of my family and friends.  I believe that TRUE Success is not how much you have gained, but how much people you have helped.  Money should never be a motivation, Helping others should be the primary motivation.
The money I have received or gained, I considered them blessings.  I believed in God and I believed that the more we give, the more we received.   I just hope that this Step-by-step guide will also help someone who is looking for easy and faster way to web development and internet marketing.
What is the Best way to Learn Web Development?
I would like to invite you to start here.  This is my guide and the best experience that you will ever have in creating websites.  You will love Web Development and this easy to follow guide is fail-proof and I can say that if you only follow it, you can have your own beautiful website done today!
Click here to the Step-by-step guide on how to blog and how to create a website.